--

Spider-Man 3 has cast.....Gwen Stacy!!!

--

What can I say? This is a moment of complete joy for this loyal Spidey fan who started loving these characters when I was 5 years old. Gwen's death broke the heart of comic lovers all over the world and is still the most painful and brilliant moment in what was the new era of comic books. As much as we love MJ, Gwen was Peter's first, deepest and most innocent, true love. Batman has Talia and now Peter has Gwen. The greatest writing of the late 1960's early 1970's has finally arrived. And they picked the best actress for the job. Now if they don't ruin the Dark Phoenix.....
--


--

Here's what Harry at Aintitcool exclusively found:
Now, it might be backwards as hell... how Sam Raimi's done this, but he seems intent on doing it. Sam is gonna bring the most beloved character in the history of SPIDER-MAN into the cinematic fold. That's right. As rumors of the second coming of the Green Goblin mount... From screen right enters... GWEN STACY!!!
--

--
So...Redheads are bleached Blond and Blondes are dyed Red? Hmmmm...Hey!
Raimi can do whatever he wants!!
For me, Gwen Stacy is the very embodiment of YOUNG LOVE. She is that teenage girl that dreamt of all those tomorrows that she'd never live. She was the damsel that wasn't saved. Right when Spidey was getting cocky about web-slinging and soul-saving... he lost another. This one, within his own soul. For serious comics fans, the Gwen Stacy story is sacred text............As of about an hour ago, the contract was signed. Sam Raimi and Avi Arad have their sweetheart. They've cast young Bryce Howard, yes, Ron Howard's daughter.....Bryce is just about the hottest young emerging talent out there right now - and she is, like her father once was, a redhead... but like Ron - she's going b... no, not bald, but BLONDE - hopefully Platinum Blonde for the role of Gwen Stacy. Avi wouldn't tell me if Bryce was signed for one or two pictures. But the key for me was always Gwen's eyes. She had amazing, captivating grey-blue newsprint eyes.
Let's Wiki Gwen and see what we find!
From http://en.wikipedia.org/wiki/Gwen_Stacy
--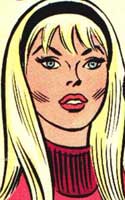 --

Gwendolyne
"Gwen" Stacy
was created by Stan Lee and Steve Ditko, she was a love interest to Peter Parker (Spider-Man). She is second in Spider-Man's heart only to Mary Jane Watson. She has blonde hair, in contrast to Mary Jane, who is a redhead. She will be portrayed in the movie, Spiderman 3.
--


--

Gwen first appeared in Amazing Spider-Man #31 (December 1965); Peter Parker met Gwen while they were undergraduates at Empire State University. Initially, Peter's problems as Spider-Man made him ignore her advances, and in return, she felt insulted by his aloofness. Gradually, however, a romance developed; Gwen, a science major, seemed to appreciate Peter's intellectual personality, different from that of jocks like Flash Thompson and preppies like Harry Osborn. She was Peter Parker's first true love.

Their romance became more complicated when her father, Police Captain George Stacy, was killed by falling debris from a battle which involved Spider-Man and Doctor Octopus (Amazing Spider-Man #90). Gwen blamed Spider-Man for that event, which set back their relationship for a while. Gwen left for Europe to deal with her loss. When she returned from Europe, Gwen and Peter resumed their relationship, but it would not last for long.
Gwen's dad, Captain Stacey dies saving a child from Dr. Octopus. In his last breath he tells Peter he knows the truth. Gwen always blames Spider-man for her father's death.
--


--

In the classic Amazing Spider-Man #121 (June 1973), "The Night Gwen Stacy Died" by writer Gerry Conway and penciller Gil Kane, Gwen Stacy was held on a bridge by the Green Goblin (Norman Osborn, who is aware that Peter Parker is Spider-Man). Spider-Man arrived to fight the Green Goblin, but Spider-Man was sick and not performing as well as usual. When the Green Goblin pushed Gwen Stacy off the bridge, Spider-Man caught her by a leg with a string of web. Spider-Man initially thought he had saved her, but when he pulled Gwen back up onto the bridge, he realized she was dead. In anger, Spider-Man almost killed the Green Goblin in retaliation, but chose not to do so in the end. The Green Goblin still seemingly died anyway when he was impaled by his own Goblin Glider in an attempt to kill Spider-Man (the Green Goblin was later revealed to have survived).
(As far as I'm concerned, bringing back a character 20 years later is not "revealed to have survived." It's just poor writing.)
It is not clear whether it was the shock of the fall or the sudden stop which killed her. This is a controversial issue. Her death became a pivotal event in Spider-Man's life; he considers it to be his greatest failure as Spider-Man. Her death is also an important milestone in comic book history.
--